Plan your hike with an overnight stay
The Schlernhaus is the ideal starting and ending point for a hike with an overnight stay – but it is also a worthwhile destination for day trips. Here you will find an overview of all the essential information to help you properly prepare for your trip: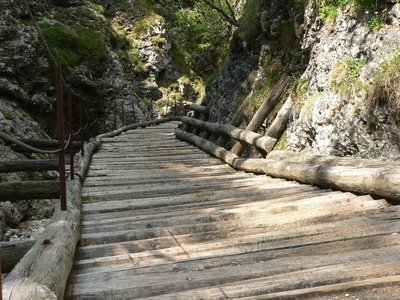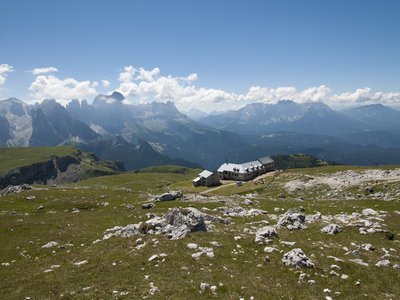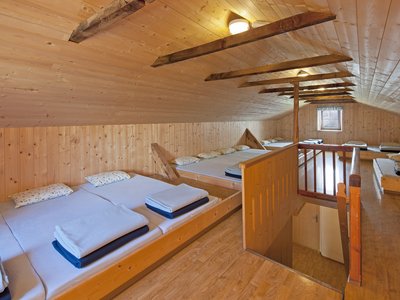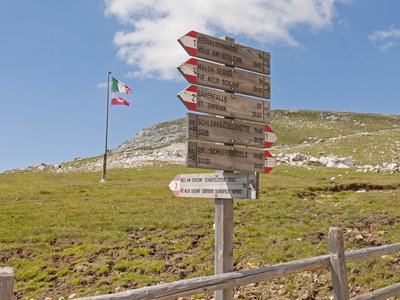 Day trip to the Sciliar/Schlern
There are at least five different routes to the Schlernhaus – not including variations. So you don't always have to opt for a hike with an overnight stay. You can also visit us on a day hike – and from different directions. The Schlernhaus is both an incentive and a reward. The stunning panoramic view of the Dolomite peaks and a well-deserved snack from the kitchen of our mountain hut in the Dolomites guarantee it.
Hike with an overnight stay in a hut
Interested in a multi-day tour? Make sure you plan your hike and overnight stay so that you arrive at the Schlernhaus by 5 p.m. We will be waiting for you with warm hospitality, a fantastic panoramic view, a hearty meal, and a cosy bed. We suggest you start your mountain hike with an overnight stay in comfort and climb up to the Schlernhaus on day one. Then, you will be well rested and ready to trek onwards to the Catinaccio/Rosengarten, Sassolungo/Langkofel and Sassopiatto/Plattkofel, Sella area, and more.
High up, yet easily accessible
The Schlernhaus is one of the oldest mountain huts in South Tyrol with overnight accommodation. For over 140 years, it has been a dream destination for mountain lovers from all over the world. The Schlernhaus certainly owes its popularity to the numerous and varied ascents of varying degrees of difficulty – but that's not all. Having arrived on South Tyrol's iconic mountain, you will experience the wealth of fascinating contrasts that characterise South Tyrol's natural landscape: Alpine pastures and meadows on the wide plateau of the Sciliar/Schlern, the rugged walls and towers of the Latemar and Catinaccio/Rosengarten over the Sassolungo/Langkofel and Sassopiatto/Plattkofel to the Puez and Geisler peaks, and looking down, the Alpe di Siusi/Seiser Alm in lush green – the world is at your feet.