The castle in the mountains
Solid walls, turrets, and oriel windows: the Schlernhaus ("Rifugio Bolzano" in Italian) crowns the iconic South Tyrolean Sciliar/Schlern mountain like a fairy tale castle. At an elevation of 2,457 metres above sea level, this simple refuge belonging to the Bolzano section of the Club Alpino Italia (CAI) impresses with its genuine mountain hut charm: the setting sun splashes colour across the Catinaccio/Rosengarten, the fire crackles in the wood-burning stove, and the cosy beds slowly warm up.
What would you like to do?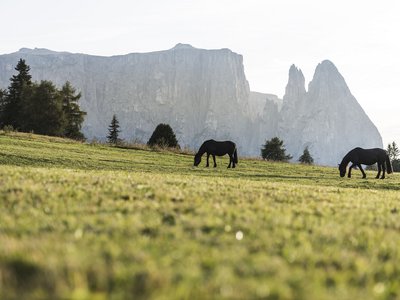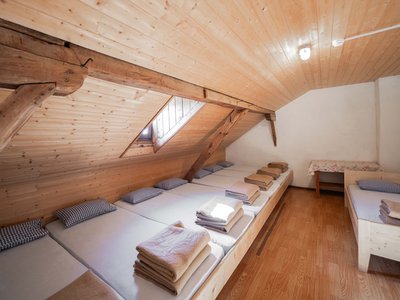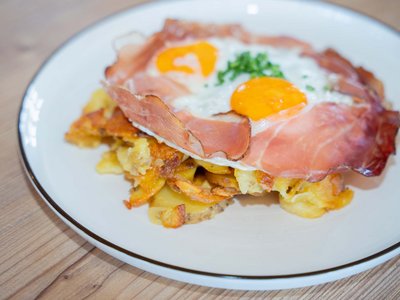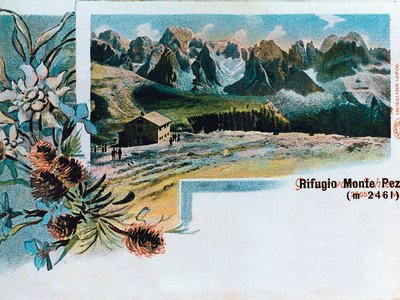 Revel in the history of the Schlernhaus
Conquer the Sciliar/Schlern on foot
The journey up to the Schlernhaus is only possible on foot as there is no access road. That means that deliveries are made via the material cable car and, on occasion, by helicopter. Here you can enjoy a well-deserved meal, a cosy get-together, lively conversations about experiences, journeys, and destinations, and perhaps even stories about mountains, animals, and people, about life and legends. In short, an incomparable mountain experience, nestled in a rustic ambience with its simple but extremely cosy traditional dining areas, bedrooms, and dormitories awaits you.
At the Schlernhaus, you can reserve either a place in a typical hut dormitory or a cosy bed with a down duvet for your multi-day hike. There are 110 beds available for your well-deserved rest, 30 of which are in cosy single and double rooms. The 80 dormitory beds are spread across various-sized rooms, from three-bed rooms to a dormitory that sleeps 14 people.
We manage the Schlernhaus and our team of employees with dedication and heart. This way, we can rely on each other 100%. Would you like to be part of this strong team?